GOSH to offer pioneering Endoscopic Suturectomy treatment
17/10/2017
Consultant Paediatric Neurosurgeon, Mr Greg James from the expert Neurosurgery Team at Great Ormond Street Hospital (GOSH) explains how Endoscopic Suturectomy with postoperative helmet therapy can help children from around the world.
Who does this treatment benefit?
This is for children with a condition called craniosynostosis, which is the early closure of sutures of the skull.
The skull is made up of different plates, and in babies, these plates are separate – which is why you can feel a little soft spot in the middle of the skulls. Sometimes a baby is born with one or more of these sutures closed, something that can happen in the womb. Craniosynostosis can cause a problem with the growth of the skull, and may cause problems with the pressure inside the brain. Children with craniosynostosis need surgical treatment.
Why is this treatment different to traditional approaches?
Traditionally, craniosynostosis operations are usually quite large and leave a large scar at the top of the head. The operation involves taking a big piece of the bone off and putting it back into a different position.
We often call these remodeling operations; they are established and very good, but as you can imagine they are quite big, they take many hours, involve a big scar, a week or so in hospital and usually some blood loss.
So there has been an increasing interest in looking at a surgery that's less invasive, with smaller scars and shorter operating times. This actually has led to re-exploring an operation that was done a long time ago and sort of rediscovering things, which is the idea of doing a suturectomey.
What used to happen was a surgeon would remove a piece of fused bone along the suture, but it became apparent that this would just heal up, and the skull wouldn't change shape. So Surgeons continue to do remodeling operations.
However, what has now become apparent is that if you take out a piece of bone, alongside amechanical device to put pressure on the skull that will cause the skull to grow normally. One of the ways this is done at GOSH is by using springs, which is an internal device to gradually open up and widen the skull, and it is very successful. Another option is to use a helmet.
What does Endoscopic Suturectomy treatment look like?
Nowadays we can do an endoscopic operation (keyhole surgery with a very small incision of 2cm long) to remove a piece of bone. This type of operation takes less than an hour, with very rare need for a blood transfusion, and only one night in hospital.
This is then followed up with postoperative helmet therapy a week later. This uses a helmet specifically made for the child that encourages the skull to grow in the shape you want it to. The helmet needs to be worn for 10 months for 23 hours a day and children tolerate this very well.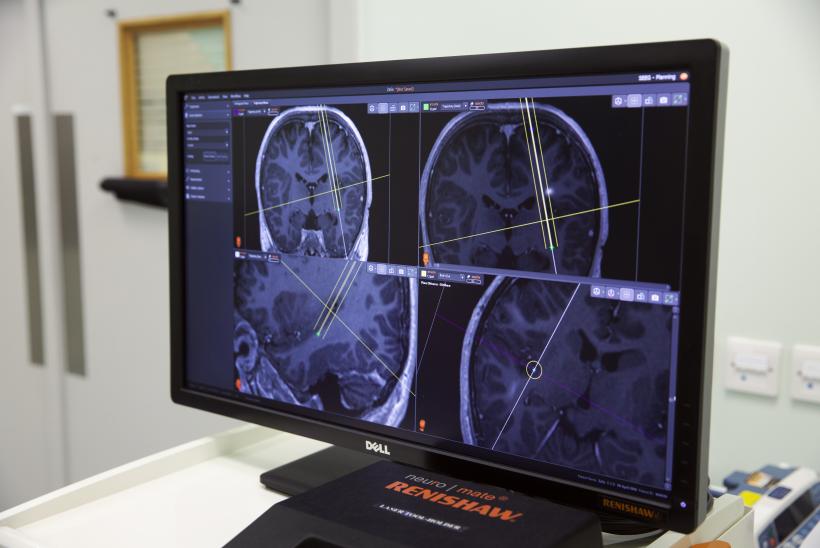 The Neurosurgery Team
The Neurosurgery Team provides a comprehensive tertiary service for children with disorders of the brain and spine that require surgical management. As a team, we offer surgical opinions, investigations and treatments for severe and complex patients 365-days a year.

We see some of the highest number of patients in the world, which means that we are experts in providing precise and experienced care to children with a range of neurosurgical problems. As a team, we review every patient together and with our colleagues from other disciplines, to ensure they receive the best care and treatment at GOSH.

We work in close partnership with colleagues from Neurology, Neurophysiology, Craniofacial, Neurodisability, the Children's Epilepsy Surgery Service and Orthopaedics and Spinal to provide multi-specialty care with the child at the centre.