A year with GOSH Arts
08/06/2018
What is GOSH Arts?

GOSH Arts is the arts programme at Great Ormond Street Hospital. Our participatory programme, art commissions and temporary exhibitions inspire creativity, create welcoming environments, and offer meaningful cultural opportunities across a variety of art forms for patients, families and staff.
Our work plays an essential role in enhancing the hospital experience at GOSH. Engaging with visiting artists and having art integrated into our buildings helps to create more relaxed spaces, less clinical environments and contributes to reducing stress and anxiety for our visitors and staff.
Why is it important that GOSH Arts exists in the hospital?
 
This has been a really exciting year for arts in hospitals and arts in health generally. The publication of the report by the All Party Parliamentary Group on Arts, Health and Wellbeing (APPGAHW) in July 2017 shone a spotlight on the multitude of positive benefits, impacts and effects of creativity in healthcare settings.
A hospital is obviously a clinical place. But it can also be a cultural space; a community of potential audiences and artists.  GOSH Arts offers opportunities for patients, families and staff to engage with art in all its forms
What kind of work does GOSH Arts do?
GOSH Arts commissions and works with a number of different artists and organisations. High-quality art commissions in healthcare settings can help to occupy patients, alleviate anxiety and distress and make clinical environments more welcoming. We work with artists and designers to develop site-specific projects that inspire the imagination of our patients and families. Where possible, we commission artists who are able to engage children, young people and staff in the design process.
This year we focused on developing our Theatre offering; programming a range of performances and supporting several theatre companies to develop new work specifically for the hospital setting.
Every year we work with a number of cultural organisations and partners to deliver bespoke projects for the hospital. Project partners this year have included; Victoria & Albert Museum, Drake Music, Above the Clouds, Foundling Museum and Camden Council and Museum in a box.
We continue to programme a range of temporary exhibitions in spaces around the hospital. This year we held our first GOSH Open, inviting staff and volunteers from across the Trust and Charity to submit work for a group exhibition.
We also host a Family Arts Week, now in its fourth year, during the October school holidays. Visual artists, dancers, architects, and musicians activated spaces throughout the hospital and encouraged families to think about how we move into and through architectural space.
The impact of GOSH arts for patients, families and staff
This year we know that 12,888 participants directly took part in creative activities, with many more benefiting from art commissioning and innovative environments, and through experiencing music and performance. In order to better understand the impact of our artwork on display in the hospital we also commissioned a small-scale study this year.
The survey results show that visitors and staff notice artworks at GOSH to a large extent: 45% of respondents said they notice the art on the walls every time they visit the hospital, and 36% of them said that they notice it often. Altogether, 81% of the respondents appear to have a high level of engagement with the visual arts displayed at GOSH.
Based on estimated visitor numbers passing through the main entrance each year, we believe there are over 150,000 observations of artworks and 16,000 in depth interactions per year.
There was also a clear consensus that the artworks commissioned by GOSH Arts have a positive impact on the Hospital environment and people's experience of visiting or working here.
Overall, 99% of the respondents to the survey strongly agree (57%) or agree (42%) that having art in a hospital setting is important.
Families of patients, staff members and visitors agreed or strongly agreed that the artworks are:  welcoming (100%), interesting (98%) and playful (98%). 
Although more research is needed to draw concrete conclusions, taken together these findings make a strong case for the positive impact that investment in the arts has at GOSH.
Highlights of the year
•             We were shortlisted for a Children and Young People Now Award, and won first prize for our project poster presentations at both the GOSH Inaugural Conference for Blood Quest and The Association for Young People's Health: 10th anniversary conference for The Temporary Tattoo Project
•             Our work was featured in
-              two Lancet Child and Adolescent Health articles
-              an Engage best practice case study looking at The Temporary Tattoo Project
-              a podcast for the Early Career Research Network
-              the first London Arts Health Forum blog post
-              several positive theatre reviews for our co-produced family show Tidy Up
•             The Premier Inn Clinical Building (PICB) opened with a range of innovative new artworks from an exciting range of artists who engaged patients, families and staff in the design and decision making process. With the opening of PICB we have seen a significant increase in our art collection, including the addition of several site specific pieces by prominent artists such as Supermundane, Sister Arrow, Chris Wood and Jason Bruges Studio.
•             We hosted HRH The Duchess of Cambridge as part of the opening of PICB, and were delighted she took part in a GOSH Arts workshop with patients celebrating the new building.
Please join GOSH Arts in celebrating with an exhibition of photographs from a year at GOSH Arts. The exhibition is in The Gallery at UCL GOS Institute of Child Health. It runs until the 15th November. 
Photos from a year with GOSH Arts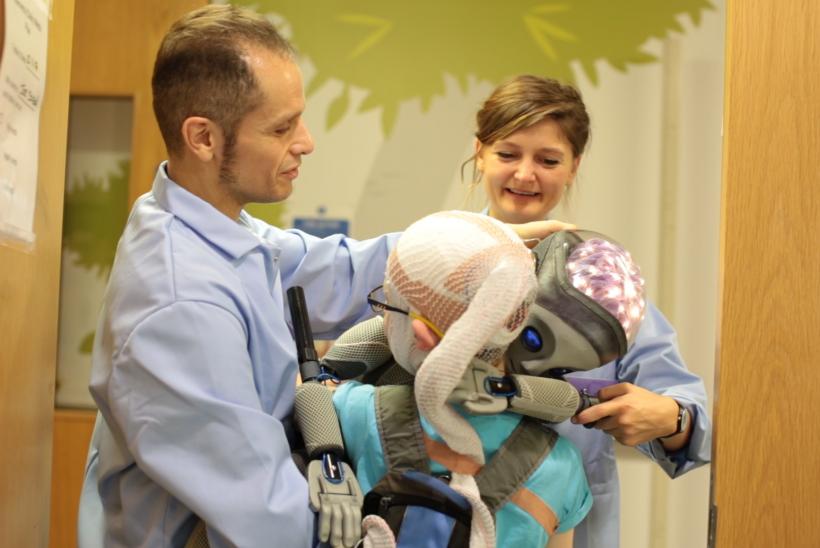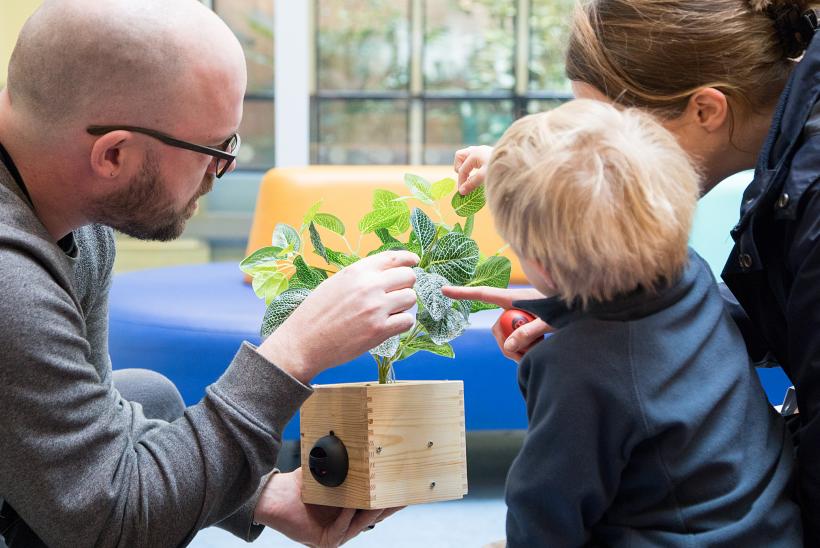 Photos from the exhibition