Dr Hui YANG from Children's Hospital of Nanjing Medical University completed an international observership programme in Paediatric Gastroenterology at GOSH.
Dr Hui Yang is an associate professor, deputy chief physician and postgraduate tutor in the Department of Gastroenterology in Children's Hospital of Nanjing Medical University. He is also the young and middle-aged editorial committee member, reviewer of Journal of Clinical and Pathological Research, and reviewer of Current Pharmaceutical Design and Current Molecular Medicine, SCI magazine. He specialises in the diagnosis and treatment of inflammatory bowel disease (IBD) in children.
Why did you choose GOSH for an international observership?
Hui: In September 2018 I visited the UK as part of a delegation from Jiangsu, China for an education and training visit. We were invited by Essex council for an education and training trip and were sponsored by the Jiangsu Health International Exchange Programme and the Children's Hospital Foundation of Nanjing Medical University. In the beginning, I studied with Dr Chakraborty, a paediatric gastroenterologist at Basildon University Hospital. Dr Chakraborty recommended that I visit GOSH for further training, due to the hospital's advanced technology and expertise in the diagnosis and treatment of rare and difficult gastrointestinal diseases. So, I came to the hospital in November 2018 for further studying.
GOSH's paediatric gastroenterology department mainly treats children with gastrointestinal nutritional diseases. I was assigned to the paediatric IBD group. Although I was there for only a week, I kept touch with Dr Neil Shah and Dr Attah Ocholi after I left. My hospital is now planning to fund more talented Chinese doctors to come to GOSH for an exchange visit.
Why did you choose to study inflammatory bowel disease (IBD) at GOSH?
Hui: In recent years, the incidence of IBD in children is rising in China. The disease affects the nutritional status and growth of children and treatment is relatively difficult. For early-onset IBD, which has a high genetic predisposition, traditional IBD treatment is ineffective and the mortality rate is very high.
However, GOSH experts have used allogeneic hematopoietic stem cell transplantation to achieve a 90% survival rate for children with early-onset IBD, which is an important weapon in the fight against genetic diseases. I learned that early in 2009, Dr Neil Shah and his colleagues successfully performed the world's first allogeneic hematopoietic stem cell transplantation to treat early-onset IBD caused by mutations in the interleukin-10 receptor gene. This work was published in the New England Journal of Medicine. But at present, this method has not been carried out in my hospital - Children's Hospital of Nanjing Medical University. That's why I decided to come to GOSH to learn more.
What is your impression of GOSH?
Hui: The whole hospital is designed for children. On my first day at GOSH, I was delighted to meet more than 20 international observers from around the world, including Finland and Argentina.
All the staff and colleagues in the paediatric gastroenterology department at GOSH are very friendly. I was very impressed on Dr Attah Ocholi's skill operating with a gastroenterological endoscope for children, Dr Jutta Koglmeier's extensive knowledge of small bowel functional reconstruction and
enteral nutrition in children, and Dr Neil Shah's expertise in the application of allogeneic hematopoietic stem cell transplantation for the treatment of children with early-onset IBD.
During the week at GOSH, I also had the opportunity to observe and study how Dr Shah treated one of his patients. The patient had been diagnosed with recurrent Hemophagocytic lymphohistiocytosis caused by X-linked inhibitor of apoptosis protein (XIAP) gene deficiency. This case achieved very good therapeutic outcomes by using allogeneic hematopoietic stem cell transplantation.
What was the key learning you took away from your observership at GOSH?
Hui: British medical care attaches great importance to the close co-operation between medical teams from different disciplines. Radiology seminars and pathology seminars are held at regular times weekly. Every Monday afternoon, paediatric gastroenterologists and radiologists have a group consultation and discussion on the patient's X-ray and CT images in the radiology conference room. Every Wednesday morning, pathologists and paediatric gastroenterologists discuss the diagnosis of pathological sections in the pathological diagnosis room with projections of the microscope onto the big screen.
In the treatment of children with a difficult and rare disease, the co-operation of different clinical teams is also very close. In this process, not only does the gastrointestinal team play an important role, but also the blood disease team, immunology team and even the urology team!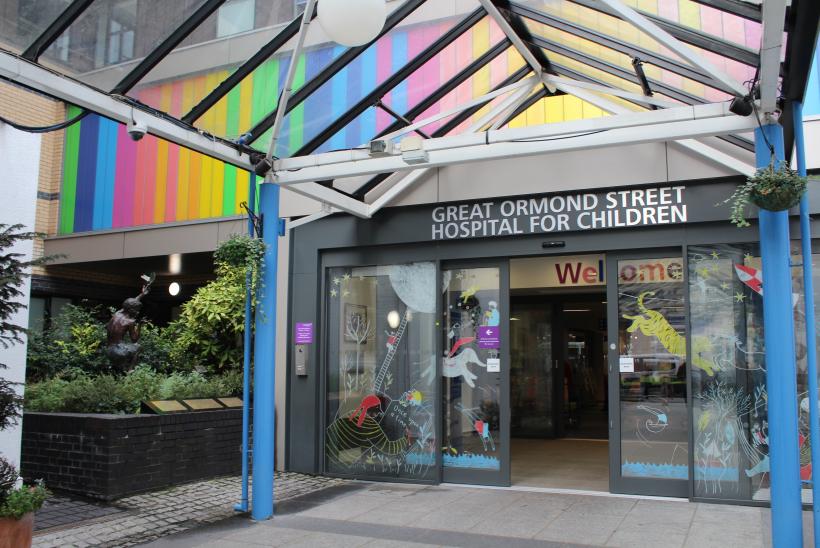 Gastroenterology
The Gastroenterology department is recognised as a leading centre of advanced paediatric gastrointestinal medicine, clinical research and teaching. We are committed to translating excellence in research and teaching into high quality patient-focused medical and nursing care, and to further understanding of the cause, development and treatment of gastro-intestinal (GI) disorders in children. The team sees over 5,000 children with chronic and life-limiting gut conditions each year and has pioneered leading-edge treatments for previously incurable diseases, including autoimmune paediatric gut disease.