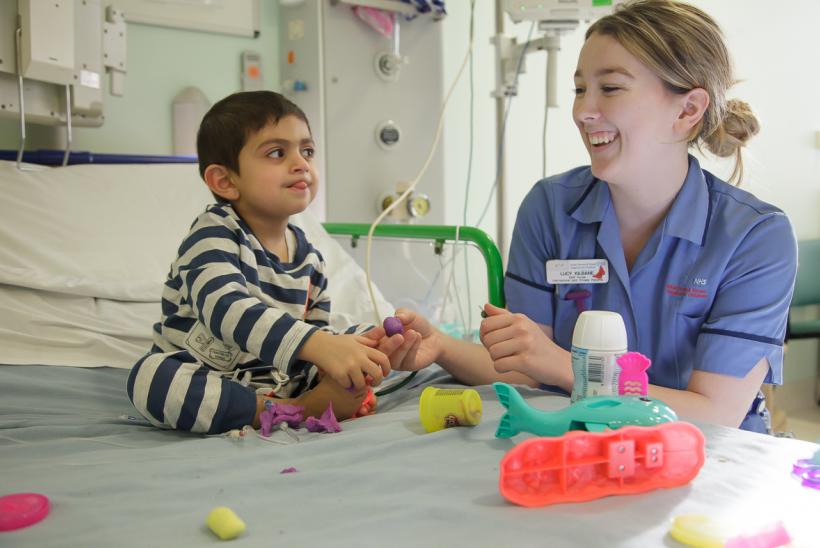 Bumblebee Ward is located on Level 5 of the Octav Botnar Wing. It has 18 single en-suite patient rooms with one bed provided for a nominated parent or carer to stay the night.
Bumblebee Ward treats patients from multiple specialties.
If you have any questions during your time on the ward, please ask one of our expert nurses or your Ward Manager.
Staff
Matron: Claudia Tomlin +44 (0)207 813 8401
Ward manager: Tom Kennedy +44 (0)207 405 9200 ext 8687
Arabic interpreters on Bumblebee Ward provide an interpretation and translation service for families and patients during the following times:
7.30am-8.00pm Monday-Friday
7.30am-7pm Saturday
8.30am-4.30pm Sunday (and bank holidays)
Facilities
All inpatient private rooms have en-suite bathrooms equipped with a shower. There are two cubicles with wetrooms and hoists for disabled access.
The ward has a dedicated Playroom. All private patient cubicles have a bedside television system. This includes television channels and internet access.
Storage space, including a lockable safe, is provided in the room.
Laundry facilities are provided free of charge and are on Butterfly Ward. There is no need for detergent or fabric conditioner as the machine does this automatically.
We encourage parents and carers to take time out in the dedicated lounge, which has a kitchen attached. The kitchen has a fridge and microwave. The parent's lounge has a television with a range of channels in a variety of languages, as well as reading material, including daily English and Arabic newspapers. The whole ward is Wi-Fi enabled.
Food
We provide all patients on the ward with breakfast, lunch and dinner. Our children's menu has been designed in consultation with expert dietitians and we are able to cater for halal, kosher and vegetarian requirements. Please let us know if you child has a special diet or any food allergies.
Meals are provided free of charge for the main parent/carer on the ward. We also provide an afternoon tea and cake at 3pm on the ward, as well as an Afternoon Sandwich round. Parents may also choose to bring in their own food. This can be stored and reheated in our kitchen facilities on the ward.
On the ward a hospitality assistant will visit you each day to order you and your child's food for the same day or following morning.
Visiting times
For visitors (excluding family) we operate a visiting time until 10pm (12am during Ramadan).
Contact the ward
+44 (0)207 405 9200 ext 8687